If you are using one of Netscape's browsers (Navigator or Communicator) and you are attempting to download files from the Internet but don't know where your download files are going, here are some tips..

Files on the Internet come in all shapes, types and sizes. There are ZIP files, PDF files, EXE files, WAV files, and so on. ZIP files are PC archive files (i.e, a single file containing multiple files). PDF files are Adobe Acrobat portable document files that require Adobe Acrobat to view them. EXE files are self-executing programs that could be anything from a paint program, to a game of Space Invaders to greeting card maker. Where you download these files to, and what you do with them are important things to know.

It is our preference when using a Netscape browser to have the browser PROMPT us when the download begins. This then allows us access to this dialog. When we start a download, we are immediately prompted with...
We prefer to click on the "Save File..." button, and then redirect the download to our DOWNLOAD folder on our C drive (see below):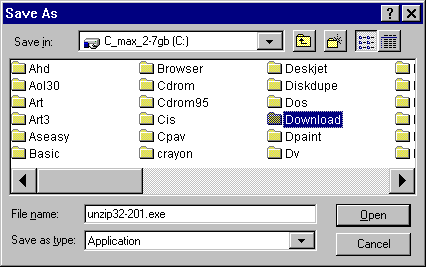 If, however, the "Unknown file type..." window does not appear (see first illustration above) and you would like it to, then here is how you can make this window appear for future downloads:
Using Netscape Navigator versions 2.0 through 3.0
Go to Navigator's Main Menu bar, and pull down the "Options" menu, then choose "General Preferences". The following window will appear. Click on the "Helpers" tab/page.
Now this is where it gets a bit technical and perhaps sticky, so pay close attention! Every file that you download has a file extension. A file named "mystuff.zip" has a file extension of "zip". A file named "space invaders.exe" has a file extension of "exe". You can figure out a file's extension fairly easy, just look for the very last period, and the 3 letters to the right of the period is the file extension for that file. OK, now that you are an expert at file extensions, what you need to look for is the zip and exe file extensions under the "Extensions" column in the above window. Once you find one, highlight it, and then click on the "Unknown: Prompt User" radio button. What this will do for you is that in the future, whenever you download a ZIP file (or EXE...the 2 most popular downloadable file types on the Internet) you will be asked what to do with the file. In short, the following window will then appear for each ZIP and EXE file type download in the future...
When this window does appear in the future, simply choose and click the "Save File..." button.


If you have additional questions regarding downloading, click here for additional downloading tips and tricks.
---